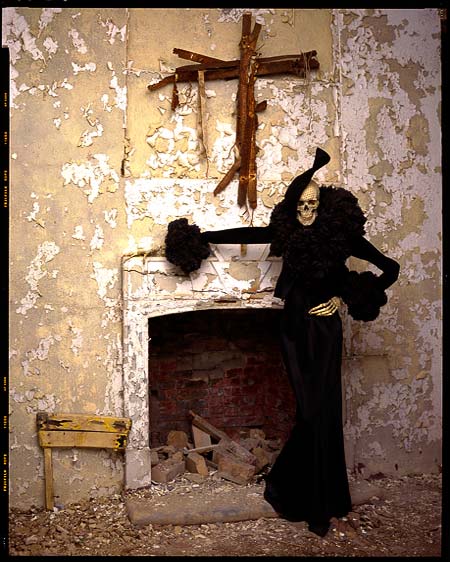 THE RiCHARD AVEDON - 1923 to 2004
Richard Avedon first began his photography career in 1942 whilst in the merchant marines taking identification photos of the crewmen with a rolleiflex camera that was a present from his father. In 1944 Avedon returned to be enlisted as a photographer in a department store. He was, after two years back, discovered by Alex Brodovitch, the art director at Harpers Bazaar fashion magazine. At this time he was also producing work for Vouge, Look and numerous other fashion magazines. Richard did not like the conventional shooting methods of fashion photography, he preferred to catch models emotions, a perspective of them smiling, laughing and in action. This gave his photography an individual accent amongst the fashion world.
As Richard's notoriety grew he was given the chance to photograph many celebrities to give his personal edge on their look and view. This boosted his fame and also gave him a greater grip on the fashion photography world. In 1966 Richard Avedon left Harpers Bazaar to become a staff photographer for Vogue. He soon became the lead photographer at Vogue magazine and created most the covers for Vogue from 1973 to 1988.
Avedon also worked on numerous other personal and professional work for example photography of mental ward patients, the civil rights movement, protestors of the vietnam war and the fall of the Berlin Wall. He has achieved very high status amongst the entire photography world community and has received many awards for his photography and life works in the field of photography.
He died in 2004 whilst working on a project
On Democracy
for the New Yorker, leading up to the 2004 elections. October 1.
Hiroshi Tanabe, 43 year old Japanese fashion illustrator started his career with clean lines and traditional woodcuts of beautiful designs and drawings. His style quickly matured into finely produced and layered works of art. He is fast becoming a very noticed and praised illustrator, due to his fast advancement and highly skilled designs. Evolving yet keeping the natural and sophisticated drawings that he has always produced.
Tanabe has published 2 books in the illustration field. He divides his time between Japan and New York and his works are publish in The New Yorker, New York Times, British Vogue, Vogue Paris, Harpers Bazaar, Rolling Stone, GQ, Arena, Vibe and the list goes on for fashion magazines to music catalogues to lifestyle and current affairs publications.
He has started using a computer for his illustrations apparently to help him fiddle with colour details and is still involved with the fashion industry and such.